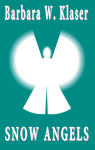 Please share Snow Angels with others!
Snow Angels Synopsis
A Romantic Mystery Novel
Tess Hunter is dissatisfied with her career in spite of her apparent success as a cookbook author, illustrator and magazine publisher. She wonders if she's made a wrong turn somewhere, and plans a surprise visit to her hometown in the Sierra Nevada, and her estranged family, to somehow break through their wall of silence and think through her career path. Tess has just finalized her plans when she learns of her family's sudden deaths in an accident. Overcome with grief for her parents and younger brother, Tess faces the unanswered question of why they kept her at a distance for the past eleven years.
On her arrival at her parents' house, Tess meets Joe Latimer, the neighbor she had a crush on as a girl. Joe has been close to Tess's family in recent years, and he thinks Tess initiated and maintained the rift between herself and her parents. Tess and Joe are drawn together, undeniably attracted to one another, even as they strive to sort out their resentment, jealousy and mistrust of each other's motives.
Tess reacquaints herself with old friends and old enemies. Then she begins receiving blackmail letters, which endanger her business with the threat to reveal publicly her alleged part in an accident years ago, days before her parents sent her away. Meanwhile, the sheriff tells Tess that her family's recent crash may not have been an accident.
Author's Notes
Snow Angels is a revision of the first novel I completed, in 1984. Originally titled Threads of Desire, and at that time strictly a romance, this is the story I revised at the request of a New York editor back in the 1980's. It wasn't published at the time, and since then I've revised Snow Angels again, to produce the finished romantic mystery you find here. This latest revision was completed several years after Shadows Fall was first published.
Why a Free eBook?
Snow Angels is offered here as an ebook to read and share. It is hoped that this free offer will allow more readers to see my work, remember my name, and gain interest in my future work.
IMPORTANT: Free does not mean free of copyright protection:
I, the author, retain full copyright to my work, but you are allowed to share a link to this website with your friends, and to convert to a format for your reading ease for your personal use only, as long as the copyright notice in its entirety, and the URL to this website, are included in any such copy, and no changes are made to the author's name, copyright information, or text, other than minimal coding changes necessary to convert the ebook to the desired reading device. You may not distribute, display or sell Snow Angels in any format, electronic or printed, nor may you include it in any product or service that is sold to others. You may not post it, in part or in its entirety, on any other website or by any other means on the Internet or elsewhere, without the express permission of the author.
Start reading Snow Angels.